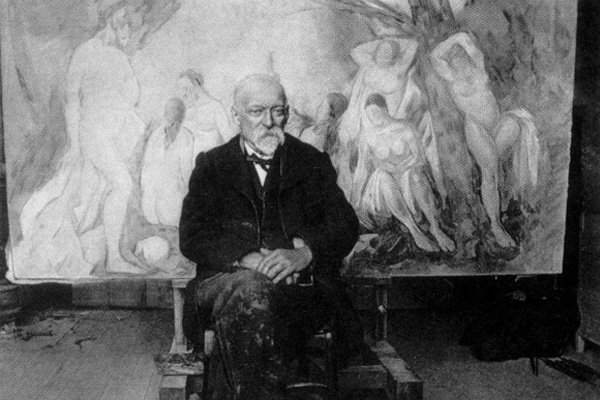 Paul Cezanne (1871-1906)
As of 1878, Cézanne applies impressionism to the sunny landscapes of the Midi and the Provence. Later on, he searches to solidify landscape composition instead of the ephemeral impressionism, which focuses only on light and the moment. For years, he tries to capture the elementary geometry of still lives and landscapes. Hereby, he trespasses the limits of realism. From 1895-1906, he follows his intuition and personal perception and develops a new style that blows Paris of its feet.
He achieves a formidable abstraction and a brilliant harmony of colours. By then, he had already for long retreated to his beloved Aix-en-Provence, where he lived in the utmost solitude but in total fusion with his art. Between 1895 and 1906, the Parisian Gallerist Ambroise Vollard exhibits his oeuvre. This will inspire Symbolists, Fauvists and Cubists. He influences all modern artists such as Picasso, Matisse, Braque, Denis, Bonnard, Vuillard, etc. His works are still very modern till this very day.
A discovery of Cézanne, the essential link between de 19th and 20th century art…